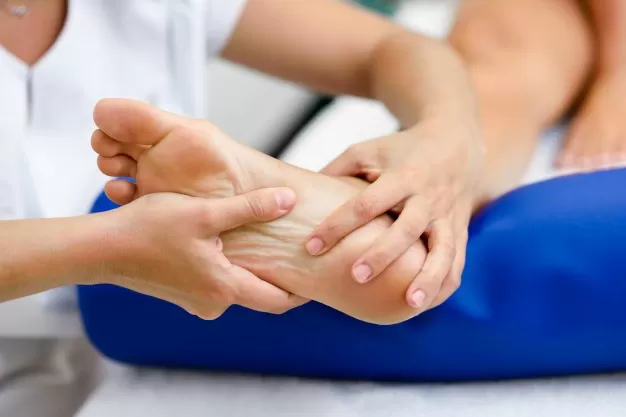 We've all noticed that we tend to slow down a little during the winter. The drop in temperatures and the occasional snowfall can make us feel like not getting out of bed. This is the time of the year for skiing, snowboarding, skating, and many holiday parties! However, it's important to make sure that we are still thinking of safety during all of these activities (yes, even the holiday parties) in order to avoid any injuries.

Some common winter sports injuries:
1)    Separated shoulders
2)    Knee Sprains
3)    Torn ligaments
4)    Pulled muscles
5)    Fractures
Also read, Etobicoke Physiotherapy Clinic
Exercising alone isn't enough to achieve good health if you've already had an injury. It's important to address injuries before they worsen and become more difficult to manage. At Triangle Physiotherapy, we promote active treatment programs that emphasize exercise to encourage client participation & independence.
Overcoming winter aches and pains:
Sometimes, a change in the weather could cause dormant aches to become more apparent. Joint pain can occur anytime throughout the year, but in the cold and wet months of the winter, you may find it harder to cope with.
A visit to a physiotherapist can help to keep you moving forward in a pain-free manner.
Avoid excess twisting and forward bending. Bend the knees and keep the back as straight as possible when you are lifting.
Make sure that you are using proper techniques and good body mechanics to help you avoid shoulder and low back injuries can be avoided.
Don't let the cold weather put you off – bundle up and be careful in wet or icy conditions.
Exercising regularly will help reduce pain within your joints and help prevent other health issues.
Also, ensure that you don't overdo exercise if you are new in the sphere. Make sure you warm up with a brisk walk or gentle jogging.
Also read, Physiotherapy Treatment in Oakville
When our body is cold, it restricts the amount of blood it sends to our extremities, like our hands and feet, so that it can focus on supplying vital organs (like the heart and lungs) with blood. This means that we lose less heat from blood circulating near the surface of the skin, and also means that the joints get less blood. This can cause delayed healing and an increased insensitivity to pain.
To answer all of your queries in detail, we, at Triangle Physiotherapy thoroughly assess you and create customized treatment programs that address each individual's needs. There are many people who feel depressed during the winter months, which can increase their sensitivity to pain. Don't let your passion for living a pain-free life take a back seat during the winter season!
Triangle Physiotherapy is coming up with a new health campaign called #JoinTheMovement. By participating in this movement, you will notice a significant difference in your overall health awareness and awareness of what a Physiotherapist can do for you.
So, what are you waiting for? For more information on our services, visit our pages on facebook, and instagram