Vulvodynia is a medical condition characterized by chronic pain or discomfort in the vulva, which is the external female genitalia. This condition can affect women of all ages and may occur without any obvious external signs or visible abnormalities. The pain associated with vulvodynia can vary in intensity and may be described as burning, stinging, itching, or rawness.
What are the symptoms of vulvodynia?
The symptoms of vulvodynia include:
Burning
Stabbing
Stinging
Itching
Allodynia (light touch perceived as pain)
Hyperalgesia (mildly noxious stimulus perceived as severely noxious)
Functional limitations (e.g. pain during intercourse, using tampons, sitting)
Are there more than 1 type of vulvodynia?
There are two main subtypes of vulvodynia:
Generalized Vulvodynia: This type of vulvodynia involves pain that is felt throughout the entire vulvar area. The pain can be constant or intermittent and may be provoked or unprovoked.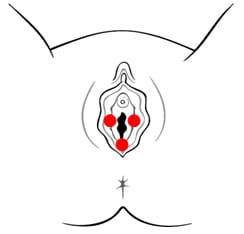 Vulvar Vestibulitis Syndrome (VVS): VVS is characterized by pain localized to the vestibule, which is the area surrounding the vaginal opening. Pain during activities such as sexual intercourse (dyspareunia), tampon insertion, or even prolonged sitting may be prominent in VVS.

What are the causes?
The exact cause of vulvodynia is not well understood, and it may result from a combination of factors, including nerve irritation or dysfunction, inflammation, muscle spasms, hormonal changes, and genetic predisposition. It can be a challenging condition to diagnose and manage because it varies from person to person.
What is the treatment?
Treatment options for vulvodynia may include:
Topical Medications: Creams or ointments containing local anesthetics or medications to reduce pain and inflammation may be prescribed.
Pelvic Floor Physiotherapy: Pelvic floor physical therapy can help relax and strengthen the muscles in the pelvic area, which may alleviate some symptoms.
Oral Medications: In some cases, medications such as tricyclic antidepressants, anticonvulsants, or nerve pain medications may be used to manage pain.
Biofeedback: This technique can help individuals gain better control over pelvic muscles and reduce muscle tension.
Counseling: Cognitive-behavioral therapy or other forms of counseling may help individuals cope with the emotional and psychological aspects of vulvodynia.
Surgery: In rare cases, surgical procedures may be considered, but these are typically a last resort and are not always effective.
How can I find a pelvic health physiotherapist near me?
We have 8 locations with pelvic health physiotherapists to help you.
[/vc_column_text][/vc_column][/vc_row]
[/vc_column_text][/vc_column][/vc_row]
[/vc_column_text][/vc_column][/vc_row]
[/vc_column_text][/vc_column][/vc_row]
[/vc_column_text][/vc_column][/vc_row]
[/vc_column_text][/vc_column][/vc_row]
[/vc_column_text][/vc_column][/vc_row]
[/vc_column_text][/vc_column][/vc_row]