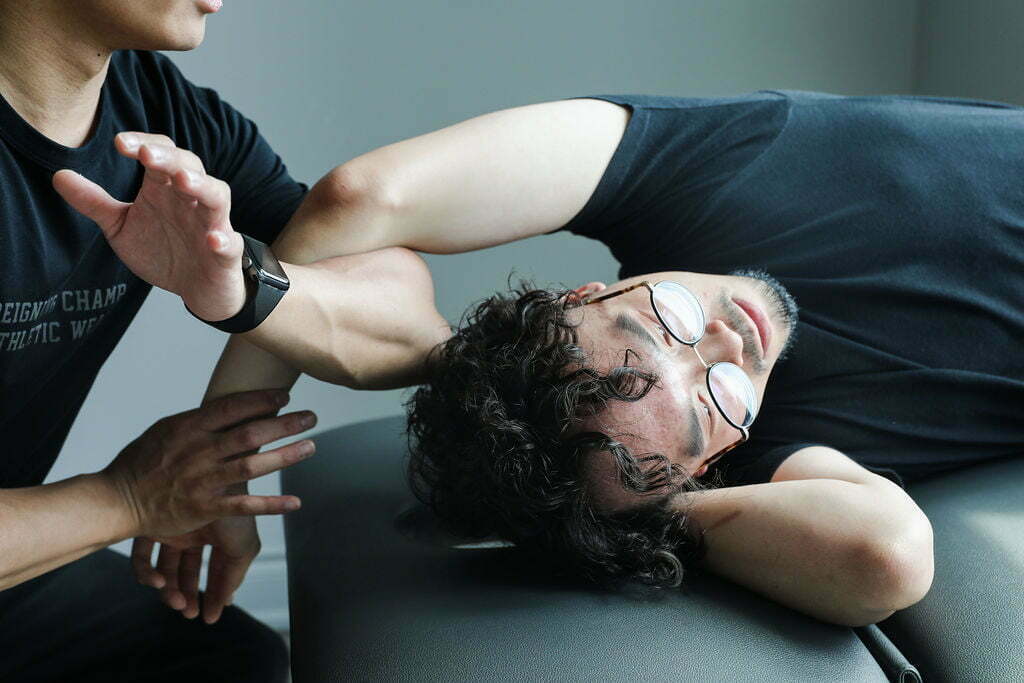 Massage Therapy
WHAT IS MASSAGE THERAPY?
Massage therapy is the manipulation of the superficial & deep tissues of the human body in order to promote deep relaxation, release tension, and provide optimum health. Massage therapy treatments at Triangle are offered to:
Help you relax
Soothe injured muscles
Stimulate blood circulation
promote health & wellness
Create an understanding of your personal health through our therapeutic massage therapy treatments.
HOW READILY AVAILABLE IS MASSAGE THERAPY, AND ARE THE MASSAGE THERAPISTS TRAINED?
Our experienced Registered Massage Therapists are available several days a week to take care of your therapeutic needs. All our Massage therapists are registered with the College of Massage Therapists of Ontario
WHAT CONDITIONS DO THE MASSAGE THERAPISTS AT TRIANGLE PHYSIOTHERAPY TREAT?
At Triangle Physiotherapy, we treat a myriad of conditions that can be helped by the use of massage therapy, such as:
Low back pain
Arthritis
Whiplash/ Vehicular injuries
Carpal tunnel syndrome
Sports-related injuries
Tendinitis
Neck and shoulder tension
Post-injury rehabilitation
Pregnancy-related issues
And much more…
It is often recommended to complement other treatments, such as physiotherapy, chiropractic or acupuncture to achieve maximum function effectively.
How long are the massage therapy sessions?
Treatments may be booked by the hour, or for 30 minutes, 45 minutes, or 90 minutes.
 WILL THE TREATMENTS BE COVERED BY MY INSURANCE?
Most private insurance companies cover Massage Therapy in full or part under extended health care plans. If you have been involved in an automobile accident, your auto insurance company may cover massage therapy treatments.
HOW CAN I SCHEDULE AN APPOINTMENT?
For more information about our services, you can contact us at info@trianglephysiotherapy.com
IS THERE A TRIANGLE PHYSIOTHERAPY LOCATION CLOSE TO ME?
There is a convenient location wherever you are! Even if you are a super mom, a workaholic or a busy college student, our goal is to make our massage therapy treatments as stress-free and comfortable as possible.
What is Massage Therapy?
It is a healing technique that is used to relax the body and to treat musculoskeletal injuries. Though there are various styles of Massage Therapy, all of them are focused on restoring the muscular system in the body to optimal function and reducing muscular tension. Some of them include Swedish Massage, Thai Massage and Athletic Massage.
Is Massage Therapy useful for only my neck and back?
It is a common misconception that Massage Therapy is only beneficial for stress-related neck/shoulder and lower back issues. However, massage can benefit all areas of the body. For example, a carpenter that has a very physical job which requires lots of fine motor skills with their hands and fingers might find their forearm muscles becoming sore and tight. This person would significantly benefit from a massage to their forearms. Don't' hesitate to ask your Massage Therapist today to work on areas that are troublesome for you!  
Should I only get a massage if I'm feeling stressed out? 
As mentioned above, receiving regular Massage Therapy treatment is beneficial for more reasons than just stress. It helps keep the body flexible and mobile and is also helps prevent injuries that can occur due to muscle stiffness.
How often should I go for a massage?
While there's no exact recipe for how often to go for a massage, it's recommended to go at least once a month in order for your body to reduce the muscle tension that builds up from daily stresses. However, it's best if you and your Massage Therapist make a treatment plan together that's best suited for you. 
Do I have to completely undress, even if there are towels that cover me?
It is usually recommended to have the skin around the area that you are receiving treatment for exposed. All of our Massage Therapists are extremely professional and are in good standing with the College of Massage Therapists of Ontario. However, if you feel uncomfortable exposing any areas of your body, speak with your Massage Therapist and they will find a way to work with you.