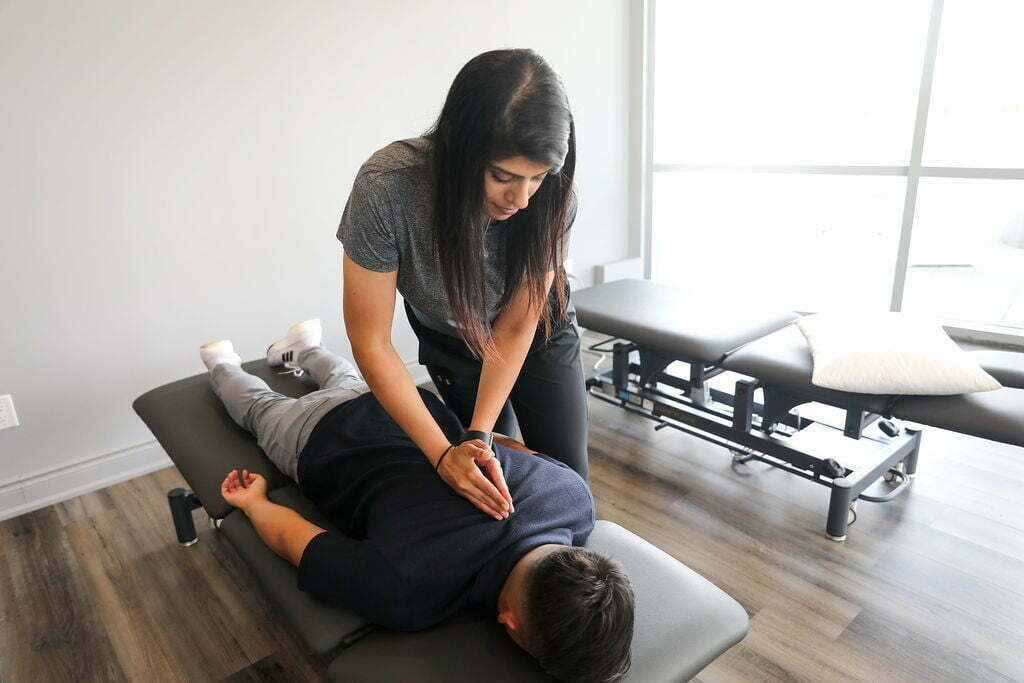 Chiropractic
BENEFITS OF CHIROPRACTIC CARE
Here are some ways chiropractic care can help you feel better, move better and live better:
Correct

Gait and foot problems
Posture and ergonomics

Achieve

Optimal movement in your neck, shoulders, back and torso
Increased flexibility

Relieve

Joint pain, muscle pain and headaches
Pregnancy-related back pain

Enhance

Your athletic performance
Your overall well-being
Your First Chiropractic Visit at Triangle Physiotherapy
During your initial visit, your chiropractor will spend time getting to know you and your health history, assess your symptoms and functional abilities, deliver a diagnosis and develop an individualized treatment plan. Your chiropractor is well-trained to determine if your problem will respond to chiropractic care or if you require referral to another healthcare provider.
During subsequent treatment sessions, your chiropractor will deliver evidence-based, patient-centered care to help relieve your symptoms and restore normal function. Your chiropractor can also provide expert advice to help you prevent pain and injury from recurring. Through periodic re-evaluations, your chiropractor will update and tailor your treatment plan to meet your health needs.
If you have any questions regarding chiropractic care, feel free to call or email us for more information:
Chiropractic Yonge Street Clinic – Chiropractic Lawrence Park:
2715 Yonge St, Toronto, ON M4N 2H8, Canada
416.203.8622 or email lawrencepark@trianglephysiotherapy.com 
Chiropractic Oakville Clinic – Chiropractic Oakville:
2501 Prince Michael Dr #2, Oakville, ON L6H 0E9, Canada
905.257.3334  or email  oakville@trianglephysiotherapy.com 
Chiropractic North York Clinic – Chiropractic North York:
2923 Dufferin St, North York, ON M6B 3S7, Canada
416.781.8400  or email  northyork@trianglephysiotherapy.com 
Chiropractic Etobicoke Clinic – Chiropractic Etobicoke:
1 The East Mall Crescent, Etobicoke, ON M9B 6G8, Canada
416.207.9911  or email  etobicoke@trianglephysiotherapy.com
Chiropractic Toronto (King Street West, Liberty Village) Clinic –Chiropractic King West:
980 King St W, Toronto, ON M6K 3N2, Canada
416.548.5408  or email  kingwest@trianglephysiotherapy.com 
Content from the Canadian Chiropractic Association & Ontario Chiropractic Association
FAQs
What is chiropractic health care?
Chiropractic is a non-invasive, conservative approach to treating the muscles, joints, bones and nerves of the body. Your chiropractor is highly educated and extensively trained to assess, diagnose, treat and prevent conditions of the musculoskeletal system. Chiropractors are skilled in hands-on healthcare, specializing in manual chiropractic adjustments of the vertebrae of the spine and other joints. Chiropractic treatment may also include joint mobilizations, muscle release therapy, therapeutic exercise, nutritional counseling and recommendations for injury prevention strategies and lifestyle changes to help you achieve your optimal wellbeing.
What is an adjustment?
An adjustment is a highly skilled and precise movement, usually applied by hand to a joint of the body. Adjustments help to relieve pain and restore normal function to the spine, joints and supporting structures of the body. When a joint is adjusted, a gas bubble escapes causing the popping noise you may have heard about. Most patients experience immediate relief following an adjustment, however, some may experience temporary pain, stiffness or slight swelling.
When should i consider chiropractic care?
There are several reasons to seek chiropractic care. Back pain, neck pain and headache are the most common reasons why patients first consult a chiropractor. Aside from these reasons, work, car accidents, sports injuries, household chores and even the stress of daily living can cause painful joint and spinal problems. Remember, even if you do not have painful symptoms, chiropractic care can help you maintain a healthy spine and optimal joint function. Our chiropractors in Etobicoke, chiropractors in Mississauga, chiropractors in Oakville and chiropractors in Toronto are skilled healthcare practitioners who can relieve your symptoms and get you back to doing what you love, pain-free.
What does a chiropractor do?
Chiropractors are primary health care providers that treat all neuro-musculoskeletal injuries in the body, even though most people only associate their treatment with lower back pain. Although there are a variety of treatment methods commonly used by Chiropractors, the most common approach is the use of hands-on treatment to target and adjust areas of stiffness and immobility in the body.
Does chiropractic treatment hurt? How safe is it?
It is possible for there to be some discomfort during a treatment session, depending on what kind of technique is being used. However, any discomfort experienced is usually very transient and followed by immediate relief.
In terms of safety, Chiropractic treatment has been found to be very safe and is used to treat a wide variety of conditions. If there is a technique that your Chiropractor would like to use that carries greater risk, they will always inform you of those risks and obtain consent before proceeding.
What is that "pop" sound that i hear sometimes, and is it harmful?
It is very common for Chiropractors to make use of "spinal adjustments" or "spinal manipulations" in their treatment of neck and back problems. This technique causes the joint being manipulated to release small air bubbles of gas within the joint, causing that sound. This is similar to the sound heard when cracking your knuckles, and is just as safe. 
What is a typical treatment session like?
An initial visit with your Chiropractor with usually involves a thorough history taking and assessment of your condition, in addition to an initial treatment to help set you on your road to recovery. Follow up appointments will usually involve substantial manual treatment of your muscles and joints, as well as some therapeutic machines (e.g. Shockwave Therapy), acupuncture, and a home exercise program as needed. The Chiropractor may also recommend that you see a massage therapist to complement your treatment plan.
Will my treatment be covered under my extended health plan (ehp)?
Most EHP's cover Chiropractic treatment. If you are unsure what your coverage includes, feel free to stop by any of our chiropractic clinics and one of the skilled receptionists can help you find out.
BOOK AN APPOINTMENT WITH OUR ONE OF CHIROPRACTORS