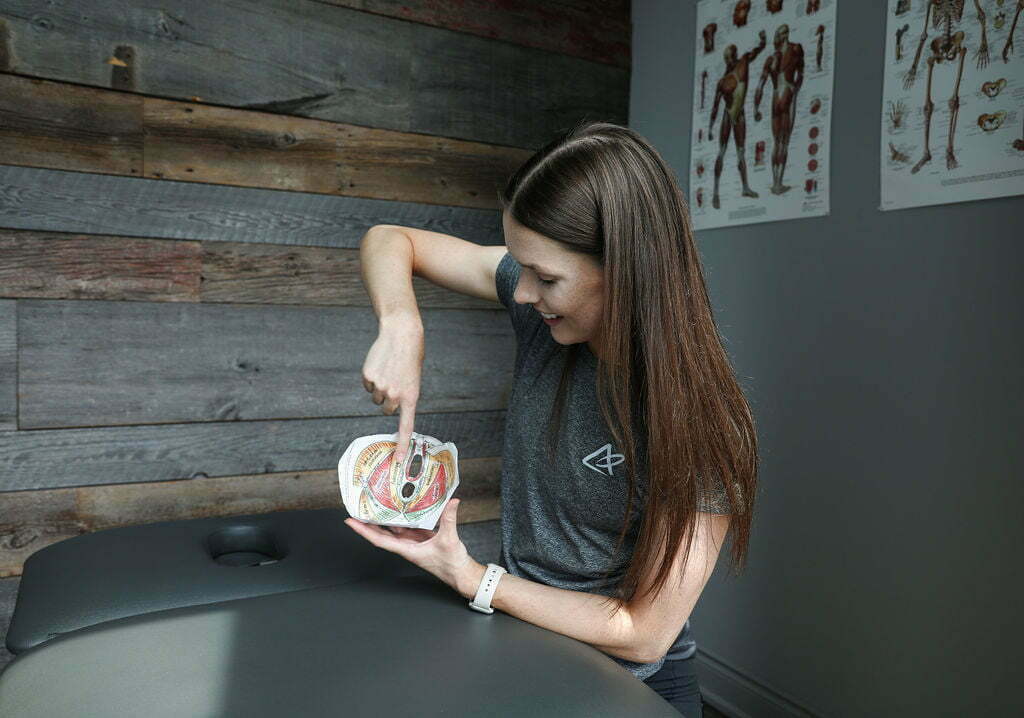 Pelvic Floor Physiotherapy
DID YOU KNOW?
1 in 4 women are incontinent.
1 in 9 men are incontinent.
1 in 6 children under the age of 17 struggle with incontinence.
Only 1 in 12 people seek out treatment because they are embarrassed to talk about it, or don't know that help is available.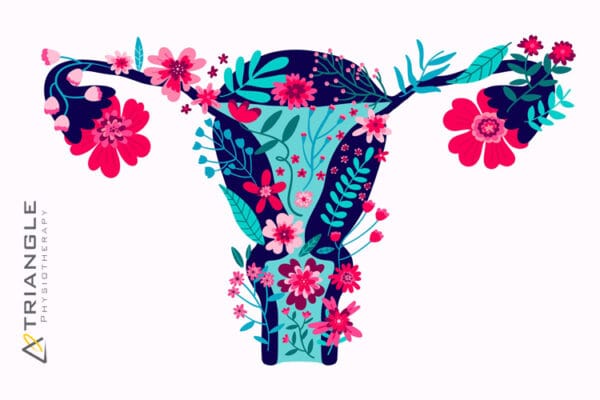 Incontinence is just one of many Pelvic Floor conditions that can be treated by a trained Pelvic Floor Physiotherapist at Triangle Physiotherapy. We provide a comfortable & positive environment to encourage patients to successfully complete a pelvic health physiotherapy program.  Our state-of-the-art facilities have private rooms for pelvic health treatments to put patients at ease when addressing a sensitive issue such as this.
Your pelvic health physiotherapist offers you valuable advice and an individually tailored treatment program to help treat your pelvic problems. Some of the pelvic issues we treat at our clinic are:
MEN'S HEALTH
Post-Prostatectomy Incontinence
Pelvic Pain

Testicular & Penile Pain
Chronic Prostatitis

Pelvic Floor Dysfunction

Pelvic Floor Muscle Tightness
Pelvic Floor Muscle Weakness
WOMAN'S HEALTH
Vaginal Pain Syndrome (as a result of pelvic dysfunction)

Dyspareunia
Vaginismus
Vulvodynia

Pelvic Floor Dysfunction

Pelvic Pain
Menstrual Pain/PMS
Pudendal Nerve Issues
Pelvic Floor Muscle Tightness
Pelvic Floor Muscle Weakness

Endometriosis
Pelvic Organ Prolapse
Urinary Conditions

Urge Incontinence
 Frequency
Stress Incontinence

Interstitial Cystitis
MUSCULOSKELETAL CONDITIONS
Lower Back Pain
Groin / Pubic Pain
Sacroiliac Pain
Piriformis Syndrome
RECTAL & BOWEL CONDITIONS:
PROGRAM HIGHLIGHTS:
Extensive 1-hour Initial Assessment
Detailed history intake of patient's pelvic issues
Brief internal and external examination
Individualized treatment sessions, 30 – 45 minutes in duration
Recommended 4 – 8 treatments typically 1x/week* (varies from patient to patient)
Outcomes vary and rely on treatment compliance and active patient participation
FAQs
What does the typical treatment entail?
After a detailed questionnaire and physical examination of your pelvic area (External/Internal), your therapist will discuss the findings with you and plan a treatment program to best suit your needs. Some of the components of the treatment include dietary modifications, changes in voiding pattern, tips to tackle the urgency to empty your bladder. A home exercise program will be set up for you to work on. Your therapist may also suggest the use of different techniques to help you with your exercise program. These techniques may include:
Manual (hands-on) techniques performed by therapist on the surface of the muscles in the pelvis, to help you locate and work your weak pelvic muscles correctly.
Electrical Stimulation: Through a metallic probe that is placed about a finger length in your vagina a mild electric current is applied to help you localize and strengthen the pelvic muscles.
Biofeedback: The same probe can also be used to read the activity of your pelvic floor muscles for display on the screen as you do your exercises. This will allow you to see how well you are performing your exercises. No electric current is felt during biofeedback.
If you have any questions about our Pelvic Floor Physiotherapy program, contact us via confidential email at pelvichealth@trianglephysiotherapy.com.
What is Pelvic Floor Physiotherapy? Is it the same kind of treatment I would receive if I had lower back pain?
Pelvic Floor Physiotherapists are specifically trained in diagnosing and treating conditions associated with the pelvic floor muscles. This usually refers to muscles involved in reproductive and digestive processes in the body. While these muscles are in close proximity to muscles commonly involved in lower back problems, and sometimes even overlap, physiotherapy treatment for the lower back involves significantly different techniques.
What are the most common misconceptions about Pelvic Floor Therapy?
There is a common misconception that only those dealing with incontinence issues and mothers who have recently delivered babies will benefit from Pelvic Floor Physiotherapy. While these two populations certainly are commonly seen by Pelvic Floor Physiotherapists, all of the conditions mentioned above will benefit from treatment.
Another common misconception is that it is only women who can benefit from Pelvic Floor Physiotherapy. This is purely a myth. As you can see from the list above, many conditions are applicable to both men and women.
What does a typical treatment session look like, and how often do I need treatment?
Your Physiotherapist will conduct a thorough subjective assessment of your condition. This will include your history of pain, known triggers for the pain, other relevant medical information, and many other things. Once the subjective portion is completed, your Physiotherapist will perform an internal exam of your applicable pelvic region to assess muscle tone and other objective findings. Once this is completed, your Physiotherapist will clearly communicate all of their findings to you and describe their proposed treatment plan.
There is no one recipe for the number of treatment sessions or the length of time required for full recovery. Some conditions may improve significantly in just a few sessions, while others that are more chronic may take longer to notice a difference. Whatever your prognosis, your Physiotherapist will clearly communicate expected timelines with you.
Will I have to undress?
In order to properly assess objective physical symptoms, your Physiotherapist will need to perform an internal exam of the appropriate pelvic region, which will require removal of clothing below the waist. However, all of our Physiotherapists are extremely professional and are in good standing with the College of Physiotherapists of Ontario, and will ensure that you are draped professionally and appropriately in a gown. Additionally, you will only undergo internal examination if and when necessary. 
What is a pessary?
A pessary is a flexible device most often made of silicone, that is inserted vaginally to provide support to pelvic organs (Urethra, Bladder, Uterus, Rectum) that have descended into the vaginal space (prolapsed). It is a non-invasive solution to help women with a prolapse or urinary incontinence. The support from the pessary acts very much like a bra for the pelvic floor.
What are the benefits of a pessary?
Non-invasive solution
Conservative therapy
Improves quality of life in non-surgical situations
Comfortable, you will not feel the pessary when it fits properly
Easily removed and reinserted, can be done independently or by health care practitioner like ObGyn or qualified pelvic physiotherapist.
Will my Pelvic Floor treatment be covered under my Extended Health Plan (EHP)?
Yes, Pelvic Floor Physiotherapy treatment will be covered under your EHP as this treatment is administered by a Registered Physiotherapist specialized in Pelvic Floor rehabilitation.