We have been told since childhood that we have to sit up straight. This has been drilled into us in school, at home, and in our extra-curricular activities. However, while it is important to sit up straight, it can be a bad thing to sit for a prolonged period of time.
Prolonged sitting has been linked to things like:
the increased risk of suffering from severe back pain,
obesity,
diabetes,
fatty liver diseases, etc.
An average desk job will involve sitting for approximately 7.7 hours every day, which doesn't include the time that we spend driving or watching TV. Our bodies were not designed to live a sedentary lifestyle and can become stiff and sore due to lack of movement, which can contribute to chronic pain and orthopaedic injuries.
Here are a few tips for sitting properly and maintaining your posture: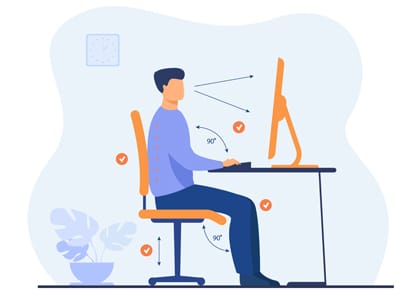 1) Comfortable chair: The very first thing to consider when sitting for a long period of time is to ensure that you have a chair that is comfortable and that can be adjusted. Make sure to sit with your buttocks all the way to the back of the chair and to lean against the backrest, allowing the muscles to relax.
2) Lumbar support: If your chair doesn't support your lumbar spine, buy one with a lumbar support that helps support your lower back curve. When looking for proper lumbar support it is important to consider that you want something that's supportive rather than just cushion-like.
3) Sitting posture: Your feet should be flat on the floor or should rest on a footrest. Sit with knees bent to about 90 degrees. If your feet can't easily reach the floor, consider placing a stool under your feet.
4) Adapt your workstation to your comfort: Adjust your laptop/computer screen to your eye level. Have the keyboard at a comfortable height so that you're not reaching too far forward. Your elbows should be bent at 90 degrees. This will prevent you from having any kind of strains or sprains.
5) Take a break and stretch at your desk: It is very important to take a walking break every 30 mins and to stretch in order to combat stress and strain on your body.
Also read, Physiotherapists in Oakville
Even after you have made all the efforts to maintain a perfect posture, a sedentary lifestyle can catch up to you at some point. It is only wise to stay active and take a break at regular intervals from sitting.
We need to sit right and not straight!  We hope you will incorporate all these points into your everyday life. If you have severe back pain, leg pain, or any posture defects, don't hesitate to check in with us. Book an appointment today with our physiotherapists to have a one-on-one assessment for any injury prevention and posture recommendation strategies.