What is Carpal Tunnel Syndrome?
Carpal Tunnel Syndrome (CTS) is a wrist and hand condition that occurs when a nerve becomes pinched within a tunnel created by the bones of the wrist. The wrist is composed of 8 small bones called Carpals,which, along with ligaments, create a 'Carpal Tunnel' on the palmer side of the forearm. This tunnel creates a space for the passage of the Median nerve and theflexor tendons of the fingers. The Median nerve provides both sensory and motor function to the hand, and if it becomes compromised within this space, Carpal Tunnel Syndrome will occur.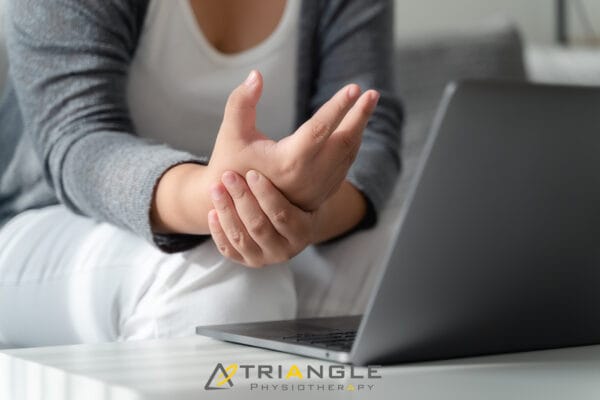 Symptoms:
Symptoms of CTS are numbness, pain, and weakness in the affected wrist and hand. Numbness and pain occur along the sensory distribution of the Median nerve, which includes the palmer side of the thumb, index finger, third finger and lateral half of the ring finger. The progression of symptoms is typically gradual, beginning with itching, tingling or mild burning, and in chronic cases can progress to complete numbness, and involve radiating pain up the arm, decreased grip strength and muscle wasting in the thumb.
Common Causes:
CTS is often due to a combination of multiple factors that result in increased pressure on the Median nerve in the carpal tunnel. This condition is rarely due to an issue with the nerve itself. A common contributing factor to CTS is size of the carpal tunnel, as the smaller the passageway, the greater the likelihood of tendon and Median nerve compression. Women on average have smaller and narrower carpal tunnels then men, making them more prone to CTS. Another contributing factor is injury or trauma to the wrist, because the resultant swelling increases the amount of pressure and decreases the amount of space within the carpal tunnel. Repetitive strain injuries to the wrist can cause inflammation and swelling of the synovial fluid surrounding the flexor tendons, which also decreases the space within the carpal tunnel. These repetitive strain injuries can often occur in the workplace, due to use of vibrating tools and machinery, or repetitive typing and use of a mouse at a computer workstation.
Treatment:
Physiotherapy is often used to help treat Carpal Tunnel Syndrome. Therapy for this condition focuses on proper education about the condition and necessary activity modification, prescription of stretching and strengthening exercises and therapeutic modalities as appropriate. Additionally, bracing can be used to help provide wrist support and stability. Wrist bracing is most effective at night to prevent wrist flexion, and during the day while performing repetitive wrist activities. Occasionally, surgical intervention is required for the treatment of CTS, in which the connective tissue creating the roof of the carpal tunnel is cut to create more room for the Median nerve. Physiotherapy rehabilitation is recommended post-surgery to ensure an optimal outcome.
For more information about Carpal Tunnel Syndrome, ask your physiotherapist at Triangle Physiotherapy and Rehabilitation!
Click HERE to book an appointment with a physiotherapist at one of our eight locations.