One of the most common questions we are asked over the phone is "How Much Does Physiotherapy Cost?". The cost of physiotherapy can vary depending on various factors such as the location, the specific clinic or facility, the experience and expertise of the physiotherapist, and the type and duration of treatment required. Additionally, the healthcare system and insurance coverage in your province can also affect the cost.
That being said, the fees for physiotherapy in the Greater Toronto Area range from $125 to $145 for the initial assessment and from $85 to $105 for follow-up sessions.
What type of facilities provide physiotherapy services in Ontario?
Physiotherapy services are available at many facilities in the community.
Private Clinics like Triangle Physiotherapy where people of all ages can receive care.
Hospitals – As per the Ontario Physiotherapy Association, Physiotherapy in hospitals may be provided to in-patients staying in a hospital or in an outpatient clinic. Many outpatient clinics offer rehabilitation programs for people recovering from surgery, stroke, or an injury. Not all hospitals in Ontario have an outpatient physiotherapy program or physiotherapy services that will meet your specific needs.
Home Care – Physiotherapy services may be delivered in your home whether you live in a house or condo, or in a larger facility such as a retirement home.
Long-Term Care Homes – Physiotherapy services are available to residents of Long-Term Care homes
Community Physiotherapy Clinics, also known as OHIP clinics – Patients who qualify receive an 'episode of care' for their condition/diagnosis. Each episode of care includes the assessment, treatment, and discharge summary. The patient cannot be charged for these services. To be eligible for physiotherapy services at a Community Physiotherapy Clinic, a patient must, for each episode of care: have a physician's or nurse practitioner's referral for physiotherapy services and fall within one of the following categories:

19 years old or younger, or;
65 years old or older, or;
Are receiving benefits under the Ontario Disability Support Program or Ontario Works, or;
Have been overnight in a hospital for a condition that now requires physiotherapy treatment.
Who pays for physiotherapy services?
At private clinics like Triangle Physiotherapy, physiotherapy may be covered by the following:
Extended Health Plans provided by employers or self-purchased
WSIB – if injured at work
Auto Insurance – Motor Vehicle Accident
Interim Federal Health Program – for Refugees
Self-pay
Can I claim physiotherapy on my income tax in Canada?
You can claim out-of-pocket physiotherapy as a medical expense tax credit. Save all your receipts from your physiotherapy visits. Please speak to your accountant for more details.
How do I book an appointment to see a physiotherapist?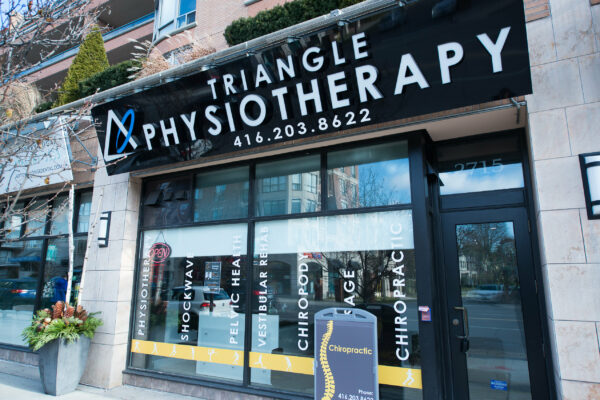 Click HERE to book an appointment with a physiotherapist at one of our eight locations.