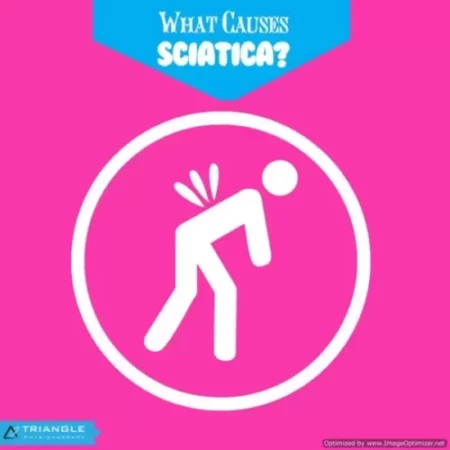 Do your legs tingle, become numb, or feel weak? You may be experiencing Sciatica. The term Sciatica describes leg pain that originates from the lower back and travels through the buttock and down the large sciatic nerve in the back of each leg. Sciatica is not a medical diagnosis in and of itself –it is a symptom of an underlying medical condition. Common lower back problems such as: lumbar herniated disc, degenerative disc disease, and spondylolisthesis can cause sciatica symptoms.
Sciatica is often characterized by one or more of the following symptoms:
• Constant pain in only one side of the buttock or leg (rarely in both legs)
• Pain that becomes worse when sitting
• Leg pain that is described as burning, tingling, or searing
• Weakness, numbness, or difficulty moving the leg, foot, and/or toes
• A sharp pain that may make it difficult to stand up or walk
• Pain that radiates down the leg and possibly into the foot and toes

Physiotherapy exercises incorporating a combination of strengthening, stretching, and aerobic conditioning are a central component of almost any sciatica treatment plan.
• Strengthening exercises- Most of these back exercises focus not only on the lower back, but also the abdominal muscles, and the buttock and hip muscles.
• Stretching exercises- Stretches for sciatica are designed to target muscles that cause pain when they are tight and inflexible.
• Low-impact aerobic exercise- Some form of low-impact cardiovascular exercise such as: walking, swimming, or pool therapy is usually a component of recovery, as aerobic activity encourages the exchange of fluids and nutrients to help create a better healing environment.

Also read, Physiotherapy Clinic Etobicoke

When patients engage in a regular program of gentle exercises, they can recover more quickly from sciatica pain and are less likely to have future episodes of pain. As sciatica is due to pressure on the sciatic nerve, it stands to reason that treatment involves removing this pressure. Your physiotherapy treatment aims to achieve this by reducing nerve pressure caused by poorly moving spinal joints as well as easing muscular tension in the lower spine, buttock, and leg.

If you are suffering from sciatica please do not delay. You can achieve the best results when you address the symptoms early!
Click HERE to book an appointment with a physiotherapist at one of our eight locations.