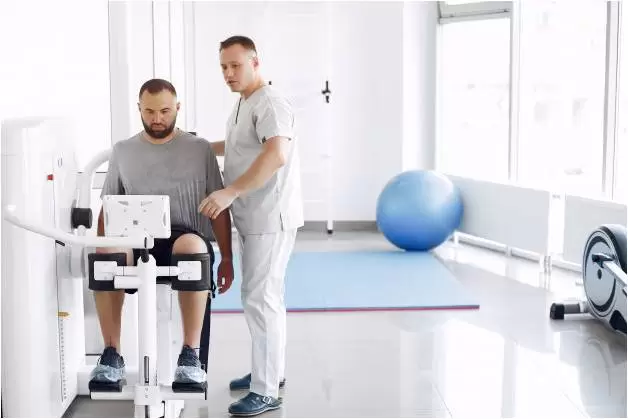 If you met with a car accident and still are facing car accident injuries and other problems related to the mobility of your body or if it causes obstacles to function properly and efficiently, thinking what to do if you have a car accident? Then you should definitely go for Physical Therapy.
Physical therapists are musculoskeletal experts and may help cure the underlying musculoskeletal injuries that may have occurred after meeting with a car accident. At Triangle Physiotherapy, our Physical Therapists will assure a one-to-one session where they will conduct an extensive whole-body analysis with a target of developing a customized treatment and detailed physical therapy programs which suit best to your condition and individual needs.
The goal of physical therapy is to help you recover physically and strengthen damaged muscles and tissues.
Few physical therapy exercise programs would include:
Manual therapy to mobilize joints, decrease scar tissue, reduce inflammation and enhance healing of tissue.
Custom exercises to address types of pain like neck and shoulder pain, back pain, spine dysfunction, or weakness.
Postural training to resolve pain in the neck, shoulders, and back.
COMMON TYPES OF INJURY
The list of injuries if you meet with a car accident is as follows:
Whiplash
Headaches
Back Pain
Neck Pain
Shoulder Pain
Knee Pain
Around 20 to 50 million people globally are injured or disabled due to car accidents in a year. If you search 'car accidents report today you will be disappointed. Car accidents can be extremely stressful, painful, troublesome, and expensive. Mostly, people who have experienced a car crash don't immediately feel signs and symptoms of pain or immobility. Moreover, symptoms won't be felt until days or even weeks after the accident. Seeking treatment as soon as possible is important to ensure that these symptoms do not cause types of chronic pain.
Out of all common injuries, whiplash is the most frequent and regular after a traffic crash. There are multiple fluctuations involved that can help with severity, recovery time, and a universal impact on your life.
Common symptoms related to whiplash include:
Stiffness to neck, arms, upper back, and the face.
Numbness into arms, neck, and upper back.
Headache, dizziness, nausea.
Feelings of general weakness.
Altered and disturbed sleeping habits and patterns.
Difficulty with concentration.
It is important to get physical therapy as soon as possible after a car accident. Although you may feel the immediate onset of pain or symptoms of injury, these symptoms may bring forth pain and mobility problems over the long haul.
Suppose if you met with a car accident, one may wonder that why is it necessary to get treated with Physiotherapy after an accident? If you're considering Physiotherapy after a car accident, there are many reasons that you may want to begin or continue with the treatment.
The doctor will recommend that you receive Physiotherapy and you will realize the benefit of rehabilitation after a car accident. You may realize on your own that you can benefit from rehabilitative treatment.


Here's why you should start Physical Therapy after a car accident:
Physical Therapy After a Car Accident Can Help You Recover Faster
Going through Physical Therapy after a car accident can help you speed up your recovery time. It can help the body recover its lost strength so that you can reduce the amount of time it takes to improve and fully recover from the injuries caused by car accidents. Time and again patients don't realize how bad their car accident injuries are until they return to their day-to-day activities. Common injuries typically include pain, stiffness, reduced range of motion, and chronic headaches or migraines. Our specially-designed Physical Therapy programs can help patients bounce back from their injuries faster and easier than staying in bed can, that's for sure!
Looks like you are serious to undergo a Physical Therapy session, our rehabilitation facility is one of the best physiotherapy clinics:
Physical Therapy Can Help You Recover Better and Prevent Long-term damage
In order to help you recover faster, Physical Therapy programs ensure a better outcome after taking good care and following Physical Therapy exercises. It can also help you or prevent the long-term effects of your injuries like chronic pain and migraines. Therapy or certain full recovery of your body to its maximum extent. It not only helps recover the immediate injuries by improving or increasing strength, flexibility, and mobility. Unfortunately, car crashes can cause nagging damage if the patient's injuries are not addressed right away. If you begin physical therapy immediately after your car accident, it's more expedient to live a pain-free life for years.
Boosting Mental Health and Improving Quality of Life
Some issues can create a problem after years of being a victim of a call accident and this can seriously affect the quality of life of a person. Physical therapy relieves these issues before becoming a serious health concern for an individual. Hence, it can improve the diminishing quality of life and helps you take control of your life. It can also boost your mood and somehow feeling better emotionally as well as physically will help you speed up the recovery process.
Avoiding Surgery
Every so often injuries caused by car accidents can even require surgery, most injuries or a type of wear and tear but a few injuries, if left rampant, can lead to surgery and costly hospital bills. It is always advised to immediately check-up with a professional for the treatment. This will help with any claims you may wish to make later on. A doctor will be able to recommend a Physiotherapist with the document to provide to an insurance company. Physical therapy treatment is a much more cost-effective solution to recovery.
There are multiple benefits of physiotherapy and that's why people are opting for this line of treatment for recovery and overall well-being.


How Long Should I Go to Physical Therapy After a Car Accident?
 Steps to take after a car accident and a few advantages of Physiotherapy:
The Type of Injury
Call accident injuries kind affect your recovery time and the time period that takes to complete your treatment. One of the most common car accident injuries is whiplash. A whiplash injury occurs when the force of the accident causes your head and neck to jerk violently forward and backward. This can cause the muscles and tendons in your neck to stretch outside their normal range of motion. Whiplash can also affect the spinal column in your neck and disc injuries can be serious. Depends on the intensity of the whiplash, it can take a few months to recover and get the accurate motion of the neck as it was before.
 2. The Severity of the Accident
It is more likely to sustain a moderate to severe injury in a more serious car accident, even the smallest of the injury. A more severe accident can cause consequential harm to your body even if you are taking all precautions of car safety like wearing the seatbelt and the airbag deploys. More serious injuries like a dislocated knee or a broken foot can impact your daily routines.
3.  Any Previous Injuries
A previous injury can leave behind scar tissue, that impacts how your body heals the new injury. Physiotherapy often takes longer if you have previous injuries, especially if they occur in the same area.
Few factors that effect are:
The severity of the injury
Location of the injury
Patient's current state of health
Patient's treatment goals
Rate of progress

How can Physiotherapy help if you've met with a car accident?
Physiotherapy helps reduce the pain and discomfort usually felt after a car accident injury. A lack of physical activity when recovering from an injury can actually cause stiffness, which can lead to more discomfort when trying to return to your daily activities, so you should always try to keep your body in motion.