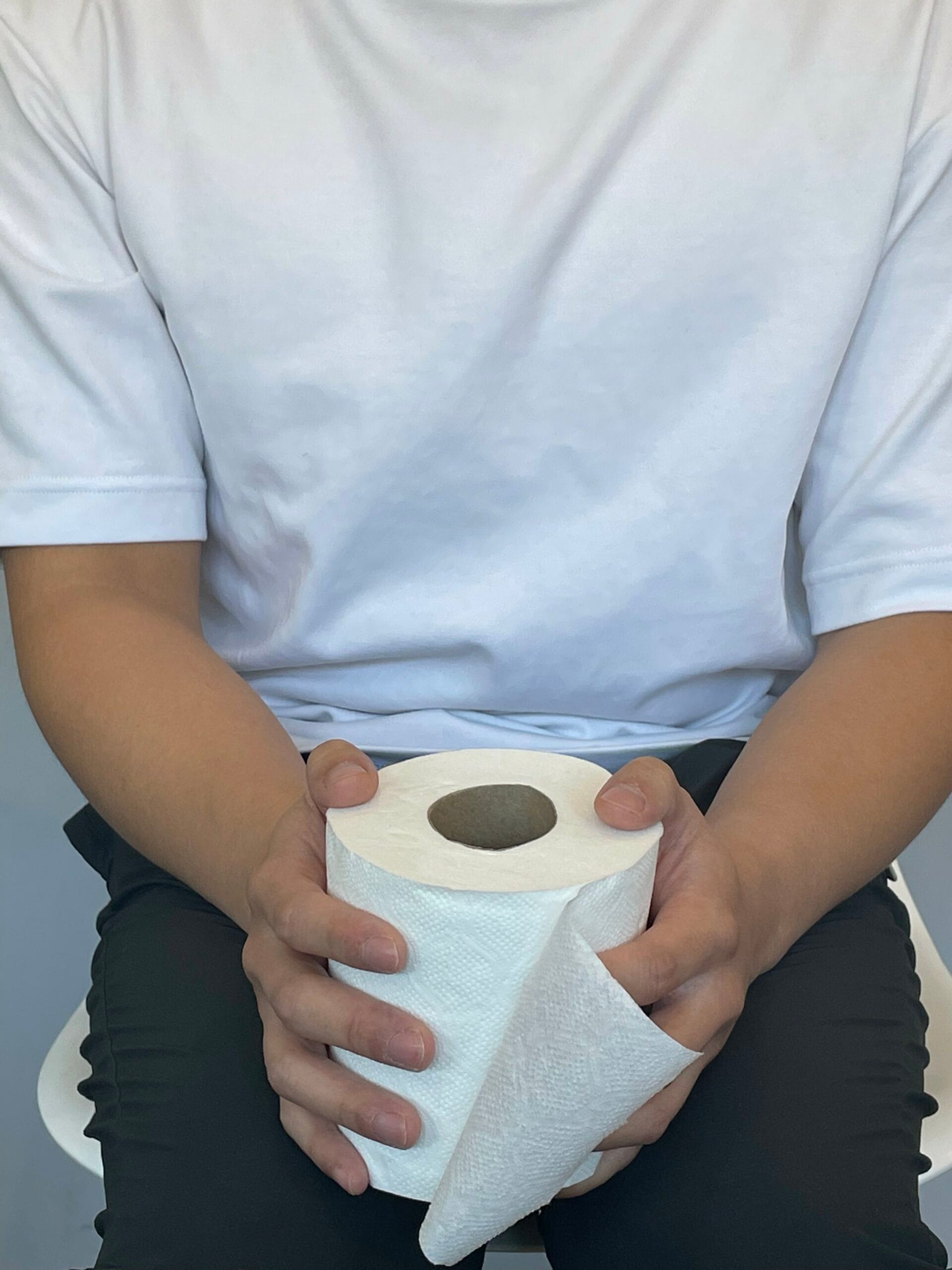 Written by Roshni Ravi, Pelvic Health Physiotherapist
Constipation is a common gastrointestinal (GI) condition that causes difficulty with passing stool or reduces the frequency of having a bowel movement. It can be caused by
– dehydration
– diet e.g. not enough fibre
– sedentary lifestyle
– Ignoring the urge for a bowel movement due to pain.
– Pelvic organ prolapse (POP)
– Medications such as anti-inflammatories, iron supplements or anti depressants.

Medically, constipation is defined as having fewer than 3 bowel movements a week with hard stools.
Pelvic muscle dyssynergia (incoordination) can lead to constipation. During a typical bowel movement, the pelvic floor needs to relax in order to evacuate stool. When there is tightness in the pelvic floor muscles, it can be painful or uncomfortable to pass stool.
Treatment for constipation can include a number of lifestyle modifications such as increased fibre and water intake, and regular exercise. However, consulting with a pelvic physiotherapist can improve outcomes, by creating an exercise program specific to your pelvic floor dysfunction. The need for lengthening versus strengthening of the pelvic floor is determined through internal vaginal or rectal examination. Another option is seeing a naturopath for ways to adjust your diet accordingly. Quite often, both treatments go hand in hand. 
Experiencing constipation or constipation like symptoms? Book a consultation with one of our pelvic physiotherapists today!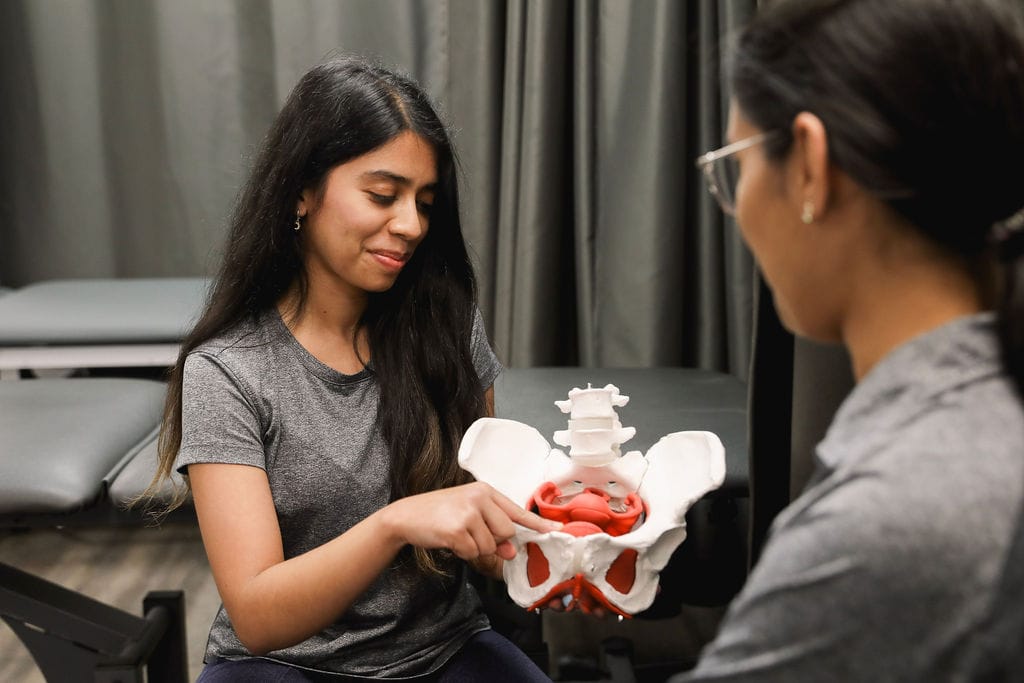 Pelvic floor physiotherapy is a specialized form of physical therapy that focuses on the muscles, ligaments, and connective tissues of the pelvic floor. While both men and women have a pelvic floor, this form of therapy is particularly relevant for women due to specific concerns related to pregnancy, childbirth, and menopause.
Did you know:
1 in 5 women who have had a baby suffer from poor bladder and bowel control
1 in 2 experience pelvic organ prolapse
1 in 5 women suffer from pelvic or sexual pain
Most physical activity will engage your Pelvic Floor Muscles
Also read, Physiotherapy Clinic in Etobicoke
Pelvic Floor Muscles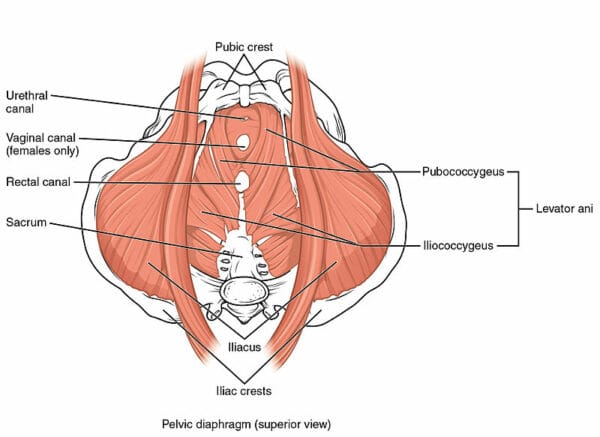 In order to better understand what happens in muscular dysfunction, it is important to first understand the normal function of these muscles, as well as other muscles that they work with. The Pelvic Floor Muscles are part of a group of muscles that are collectively referred to as your "core" muscles. This muscle group is composed of 4 distinct but linked group of muscles:
Pelvic Floor Muscles
Diaphragm
Abdominal Muscles
Lower Back Muscles
Also read, Physiotherapy Oakville
The Pelvic Floor muscle group is located at the base of the core. It is an important muscle group that works with the rest of the core to maintain pressure inside the torso when lifting heavy objects, coughing/sneezing or doing any other physical activity involving your lower back muscles. Some of the most important functions of the Pelvic Floor Muscles are:
Maintaining control of the bowel and bladder in order to control leakage
Holding up and supporting the bowel, bladder, and in the case of women, the uterus
Playing an important role in sexual function
Pelvic Floor Muscles are located within the pelvic cavity and attach from the front to the pubic bone to the back to your tailbone or coccyx.
Also read, Physiotherapy treatment Mississauga
Pelvic Floor Dysfunctions in Women
For women, the Pelvic Floor holds additional importance as it is the group of muscles that handles enormous pressure during pregnancy. The ever-increasing weight of a child puts a strain on the pelvic muscles and the bladder, leading to frequent urination. As such, pelvic floor discomfort is quite common in women that are pregnant.
Advantages of Pelvic Physiotherapy for Women
Pelvic Floor Physiotherapy helps in the treatment and prevention of:
Pelvic and bladder pain
Painful intercourse
Urinary leakage, frequency or urgency
Post-pregnancy related problems
Abdominal pain
What Do We Treat and How Do We Treat It?
At Triangle Physiotherapy, our Pelvic Health Physiotherapists can help treat:
Vaginal Pain Syndrome (as a result of pelvic dysfunction)
Pelvic Floor Dysfunction
Pelvic Organ Prolapse
Urinary Conditions
And many more conditions!
Our assessments include:
A thorough, 1-hour detailed history of your health issues, and specifically your pelvic issues
A brief internal and external examination
Our treatments involve:
Individualized treatment sessions that are 30 – 45 minutes in duration
Generally, 4 – 8 treatments at a frequency of 1x/week* (varies from patient to patient) is recommended to best address your symptoms
If you're a woman suffering from any of these conditions or are expecting a baby and would like to have healthy pelvic muscles, book an appointment today at any one of our 8 clinics in Etobicoke, Oakville, Mississauga (Square One), Mississauga (Erin Mills), North York, Toronto (King Street) Toronto (Queens Quay) and Toronto (Yonge Street).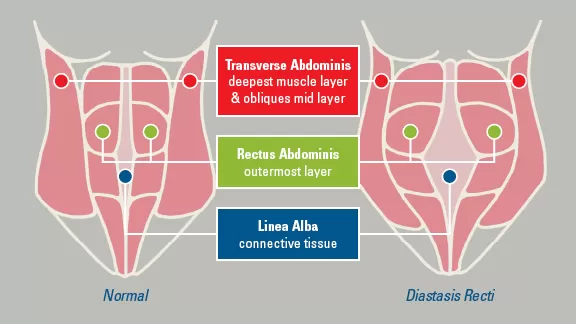 A Diastasis Recti Abdominus is a separation in the 6-pack muscle, the rectus abdominis.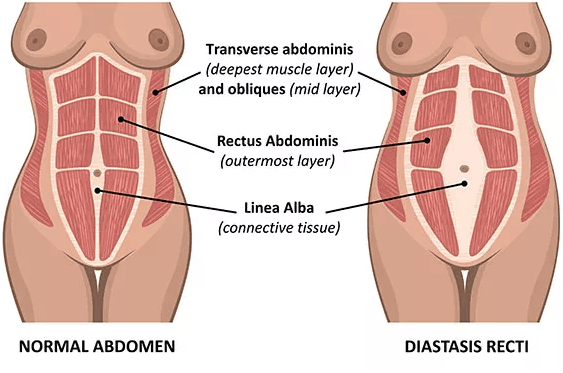 How does it occur?
It most often occurs during pregnancy. Sometimes it will spontaneously correct following birth, but it does not always.
It can also occur with overstretch of abdominal musculature.
Why is it a problem?
There is no pain with this condition.
However, the abdominal wall and the core will become weak. Your abdominals work with your pelvic floor, so a separation of your rectus abdominis muscles can make your pelvic floor less efficient and may result in prolapse and incontinence.Your abdominals also work with your lower back musculature, therefore it can lead to lower back pain.
How do I know if I have a Rectus Diastasis?
If you lift your head while lying on your back and the center of your belly protrudes out, you may have a rectus diastasis. It is measured by the number of fingers you can fit between the muscle when lying on your back and lifting your head. Normal is 1/2 a finger above and below the belly button, and one finger at the belly button.
How do I treat it?
If the abdominal separation is greater than 4 fingers, an abdominal binder is recommended. If you use an abdominal binder, it should be from your hip bones to your rib cage, you need to keep the binder on 24/7. You can only take the binder off when you do your correction exercise below, or when you take a shower. You should keep it on at bedtime.
To get your pelvic health assessed, schedule a consultation with a pelvic floor physiotherapist at Triangle Physiotherapy!
Written by: Kamand Zendeganidoost, Registered Physiotherapist