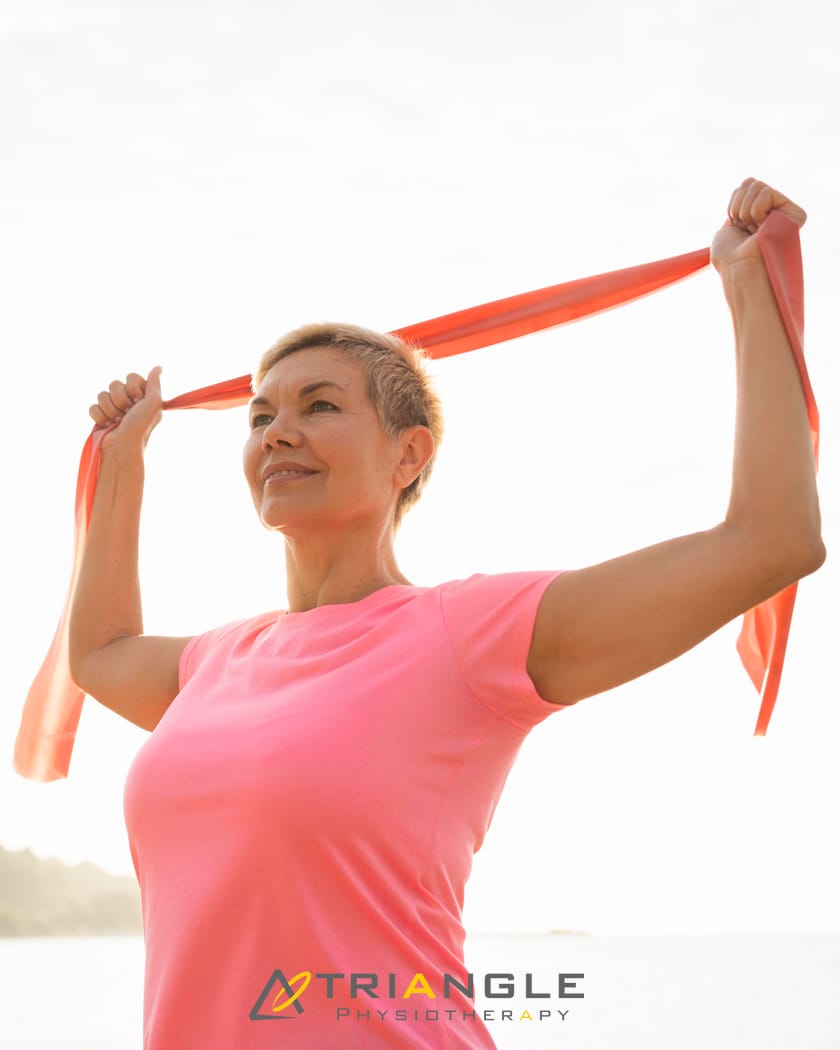 Introduction to Cancer Rehab
Cancer rehabilitation physiotherapy is a form of physiotherapy for people who have been diagnosed with cancer or for those who are undergoing cancer treatment. The goal of cancer rehab physiotherapy is to help manage and treat the side effects of cancer treatment.
Our cancer rehab physiotherapist will conduct a thorough assessment of your physical condition and medical history.
What are some conditions that cancer rehab can help with?
Common cancer rehab conditions our registered physiotherapists can help with are:
Balance problems
Pain
Breathing difficulties
Neuropathy
Muscle weakness
Fatigue
Lymphedema
Range of motion and mobility issues
What are some tips to prepare for my cancer rehab appointment?

Some tips for preparing for your cancer rehab physiotherapy appointment are:
We recommend you drink plenty of water and have a light meal before your appointment.
Complete the necessary forms before your appointment.
Remember to bring your doctor's note to your appointment if your insurance requires one for billing.
Wear comfortable clothing that allows easy movement.
Gather any relevant medical information and documentation and bring it to your appointment.
Make a list of any medications you're taking.
Try to get enough rest before the appointment.
How to find a cancer rehab physiotherapy service in Oakville?
Triangle Physiotherapy Oakville is located at 2501 Prince Michael Drive, unit 2 and it's in the same plaza as Shoppers Drug Mart and Starbucks. The main intersection is Trafalgar and Dundas. There is free parking available
How to find a cancer rehab physiotherapy service in Mississauga?
Triangle Physiotherapy Erin Mills is located at 2520 Eglinton Ave W, Unit 205 across from the Credit Valley Hospital. The main intersection is Eglinton and Erin Mills. Parking is available in the building at $1.00 for 30 minutes.
FAQ
Who can benefit from cancer rehab physiotherapy?
Individuals who have undergone or are currently undergoing cancer treatment can benefit from cancer rehab physiotherapy.
Would cancer rehab physiotherapy help during all stages of cancer treatment?
Cancer rehab physiotherapy can be helpful during all stages of cancer treatment, including before, during, and after treatment.
What kind of treatment is included in a cancer rehab physiotherapy session?
It may include some exercises, modalities, and manual therapy. Your physiotherapist will assess you and create a personalized treatment plan for you.
Is cancer rehab physiotherapy safe?
Yes, cancer rehab physiotherapy is designed to be safe, effective, and beneficial to cancer patients. It has been known to significantly improve the quality of life of Cancer Survivors.
What are the 4 stages of Cancer Rehab?
According to the Dietz Classification of Cancer Rehabilitation, there are 4 Stages in Cancer Rehabilitation.
Preventative Rehabilitation: Early intervention and exercise to identify potential impairments and prevent or delay complications related to cancer or therapies.
Restorative Rehabilitation: For cancer patients with the potential to attain full functional recovery, restorative rehabilitation offers comprehensive therapy to regain function to return to work or school.
Supportive Rehabilitation: For patients with temporary or permanent deficits from cancer and/or treatments, and patients with slowly progressive or chronic cancer, supportive rehabilitation can give the opportunity to re-establish and maintain functional independence.
Palliative Rehabilitation: For patients with treatment-refractory cancer or advanced disease, less intense palliative rehabilitation may play a role in assisting the patient and their family by maximizing patient comfort and reducing caregiver burden,
Click HERE to book an appointment with a cancer rehab physiotherapist near you.