The labour and delivery process can greatly benefit from Pelvic Physiotherapy. Pelvic Physiotherapists can help to improve strength and mobility of the muscles and joints in the pelvic area and help make it easier for the baby to descend through the birth canal during delivery. 
FAQs about the Labour and Delivery Process
What are the different stages of Labour and Delivery?
The three stages of labour and delivery are:
Early Labour: This is from the onset of labor to when the cervix is fully dilated to 3-4 centimeters.
Active Labour: This is when the cervix is fully dilated to 3-4 centimeters to when it is fully dilated to 10 centimeters.
Transition: This is when the cervix is fully dilated to 10 centimeters to the delivery of the baby.
---
How long does labour usually last?
The duration of labour varies from person to person and can range from a few hours to over 24 hours for first-time mothers.
---
What are the common signs of labour?
The common signs of labour include:
Regular contractions
Water breaking
Back pain
Pelvic pressure
Blood-tinged mucus discharge
---
What is an epidural and how does it work?
An epidural is a type of anesthesia that is used to relieve pain during labor and delivery. It is administered through a small catheter placed in the lower back and works by blocking the sensation of pain in the lower body while allowing the woman to remain conscious.
---
What is the process of a vaginal delivery like?
A vaginal delivery is the delivery of a baby through the birth canal without the use of surgical intervention. During a vaginal delivery, the baby moves through the birth canal and the mother pushes with contractions to help deliver the baby.
---
What is a cesarean delivery (C-section)?
Doctors perform a cesarean delivery (C-section) by making an incision in the mother's abdomen and uterus to deliver the baby. They typically opt for a C-section when a vaginal delivery is not possible or when there is a medical concern for the mother or the baby.
---
What are some of the risks associated with labour and delivery?
Some of the risks associated with labor and delivery include:
Preterm labour and delivery
Hemorrhage
Infection
Fetal distress
Shoulder dystocia (difficulty delivering the baby's shoulders)
---
What can I do to prepare for labour and delivery?
You can prepare for labour and delivery by:
Take childbirth education classes
See a pelvic health physiotherapist
Create a birth plan
Find a supportive birth team like doulas or midwives
Pack a hospital bag
Discuss pain management options with your healthcare provider.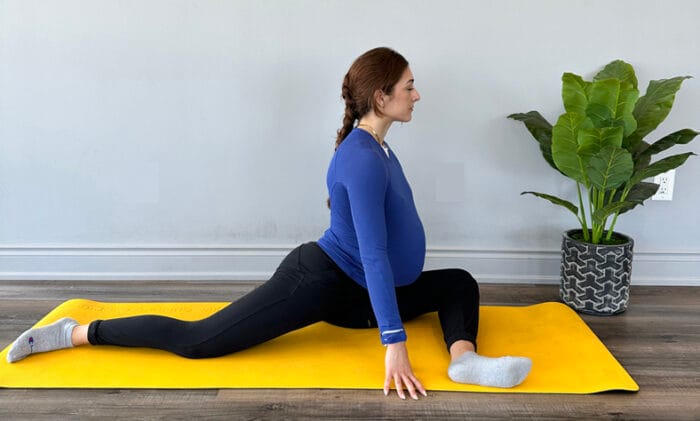 ---
The role of Pelvic Health Physiotherapists in preparing you for Labour and Delivery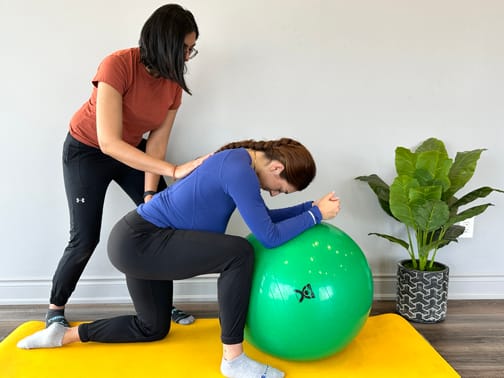 Pelvic physiotherapy can help to alleviate common pregnancy-related symptoms such as back pain, incontinence, and pelvic pain. A combination of manual therapy techniques with soft tissue and joint mobilization along with mobility work can be used to alleviate pain in the pelvic area, additionally, the physiotherapist can also work on alignment and posture to help prevent injury and reduce discomfort. 
Leading up to labour, a pelvic physiotherapist can provide you with a variety of tools to help with pain relief and positioning to improve your experience during labour. One of the common techniques taught to birthing parents at 32 weeks, is the perineal massage to reduce the chance of tearing during delivery. In addition, you would also be taught positions to help reduce discomfort during contractions as well as pushing techniques.
After delivery, a physiotherapist can help restore strength and mobility along with providing education on suitable abdominal and pelvic floor exercises based on weaknesses and tone, moreover, any side effects from delivery such as perineal tearing can also be treated post-partum. 
Have questions? Discuss your options with a pelvic health physiotherapist for pregnancy and post-partum care!
How do I find a pelvic health physiotherapist near me?
We have 8 locations with pelvic health physiotherapists to help you.
What is incontinence?
Incontinence can be a fairly sensitive or embarrassing subject to those who suffer from it. Incontinence is the involuntary loss of urine or feces from the bladder and bowel. But know this, incontinence is an ACCIDENT, it is something that is uncontrollable and can happen to any expecting mother. Urinary incontinence affects around 10-13 million men and women, and it is twice as common in women as in men. Anthony Atala, MD, said, "I would say virtually all pregnant women experience some type of incontinence". Incontinence should not rule your pregnancy or your life.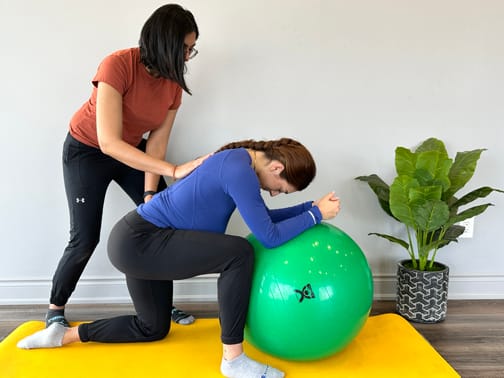 What does pregnancy have to do with incontinence?
Pregnancy can interfere with the normal way your urethra relaxes and contracts. You are able to urinate when the muscles around your urethra relax, allowing urine to pass through your bladder and out of your body. After urination, the muscles around your urethra contract, holding off urine flow until your body is ready to urinate again.  Hormone changes during pregnancy and the additional pressure on the bladder from your uterus can cause stress incontinence. Mothers who are experiencing stress incontinence may urinate whilst sneezing, walking, coughing, laughing, running, and during exercise. Women who have a family history of incontinence, gain more weight than recommended during pregnancy, and are over the age of 35 are at higher risk of experiencing incontinence. How do I avoid incontinence during pregnancy?
There are numerous ways to avoid pregnancy incontinence, along with visiting a pelvic health physiotherapist, to avoid leakage.
Schedule your bathroom breaks. Try to make it to the toilet at least every two hours, as when pregnant, women urinate more frequently.
If you think your bathroom visits are proper, try practicing kegel exercises. Kegels help strengthen the pelvic floor. Practicing a kegel is the same as stopping the flow of urine within your urethra. Contract your muscles to the count of ten and then release. Repeat exercises ten to twenty times in a row two to three times a day. The average time to see results is four to eight weeks of regular practice.
Watching your weight while carrying has a significant effect on developing incontinence.  Women who gain more weight during pregnancy are more likely to experience incontinence. Combining these factors with your pelvic physiotherapist will lower your risk of developing incontinence during your pregnancy, allowing your experience to be worry-free.
If you are still unsure or worried about the risk of incontinence during your pregnancy, contact a pelvic floor physiotherapist at Triangle Physiotherapy. Triangle Physiotherapy has eight convenient locations: Etobicoke, Oakville, Mississauga, North York, Toronto, and King West. At Triangle Physiotherapy, our team is compromised of professionals who love what they do. Triangle staff will ensure that you will have a safe and comfortable pregnancy while in their care, and will help get your pregnancy back on track and in your hands.
Click HERE to book an appointment with a physiotherapist at one of our eight locations.