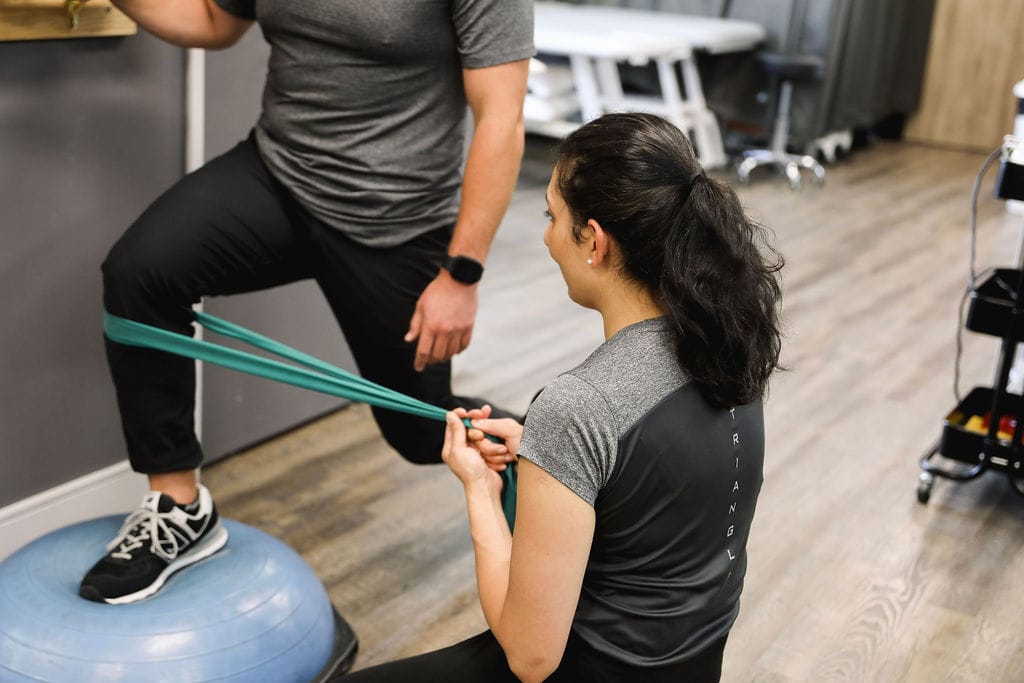 When choosing a physiotherapy clinic, it's essential to find a clinic that has physiotherapists that meet your specific needs and can provide high-quality care.
Which is the closest Physiotherapy clinic near me in the Erin Mills area of Mississauga?
Our physiotherapy center at Erin Mills in Mississauga is located in the Arc Condominiums at 2520 Eglinton Avenue, W, on the SECOND Floor. The closest intersection is Erin Mills Parkway & Eglinton Ave W across from Erin Mills Town Center and Credit Valley Hospital.
Is there a highly qualified physiotherapist at your physio clinic in Mississauga who you would recommend I see?
Our physiotherapy center in Mississauga has highly qualified professional physiotherapists with many years of experience. We have physiotherapists with FCAMPT designation, which is the highest certification in manual therapy. Our physiotherapists are also trained in specialties like dry needling, pelvic health and cancer rehab.
We also have a team of highly skilled professionals including physiotherapists, massage therapists, acupuncturists, chiropractic doctors as well as naturopathic doctors. You are welcome to read their profiles on our website or call us for more information.
Do all your physiotherapy centers offer physiotherapy services, massage services, and chiropractic services?  
Yes, all of our clinics offer the following services:
Physiotherapy
Pelvic Floor Physiotherapy
Acupuncture and Dry Needling
Vestibular Rehab Therapy
Chiropractic
Massage therapy
Naturopathic Medicine
Are the fees for all physiotherapy services, massage services and chiropractic services the same in all your physiotherapy centers?
Yes, our fees at all eight locations are the same for all physiotherapy services.
I have tried a physio clinic near me but I wasn't satisfied with the service they have provided me and I would like to try another physio clinic near me.  How many clinics do you have in Mississauga?
We have two locations in Mississauga, Triangle Physiotherapy by Erin Mills Mall and Triangle Physiotherapy by the Square One Shopping Centre.
I have been searching for physiotherapy clinics near me that offer Shockwave physiotherapy service, does your clinic offer this?
Yes, our physiotherapy clinic in Erin Mills has shockwave therapy as well as other Physiotherapy modalities available to provide the best treatment possible for our patients.
I recently found out that the physiotherapy clinic near me has registered physiotherapists at their physiotherapy clinic. I would like to move to a physio clinic near me, are all your physiotherapists in Erin Mills registered?
Yes, all our physiotherapists at the Erin Mills clinic are registered physiotherapists and highly qualified.
I have seen many physiotherapists in Erin Mills but I have yet to see improvement in my condition. Are all your physiotherapists in your Physiotherapy clinic in Mississauga registered and am I able to choose which registered physiotherapist I would like to book with?
All our physiotherapists will take excellent care of you, but you're more than welcome to choose which physiotherapist you would like to book with.  You may check their profiles on our website and inform us who you would like to book with when you request an appointment.
Many Physiotherapy centers claim to be the best physiotherapy clinic in Mississauga but I have personally heard from a friend who I trust that you are indeed the best physiotherapy clinic in Mississauga.  How do I book an appointment?
You may call, email, or send us a message on the chat feature on our website, and we will gladly help you book an appointment at a time that is most convenient for you. You may also submit a booking request by clicking here.
What is physiotherapy?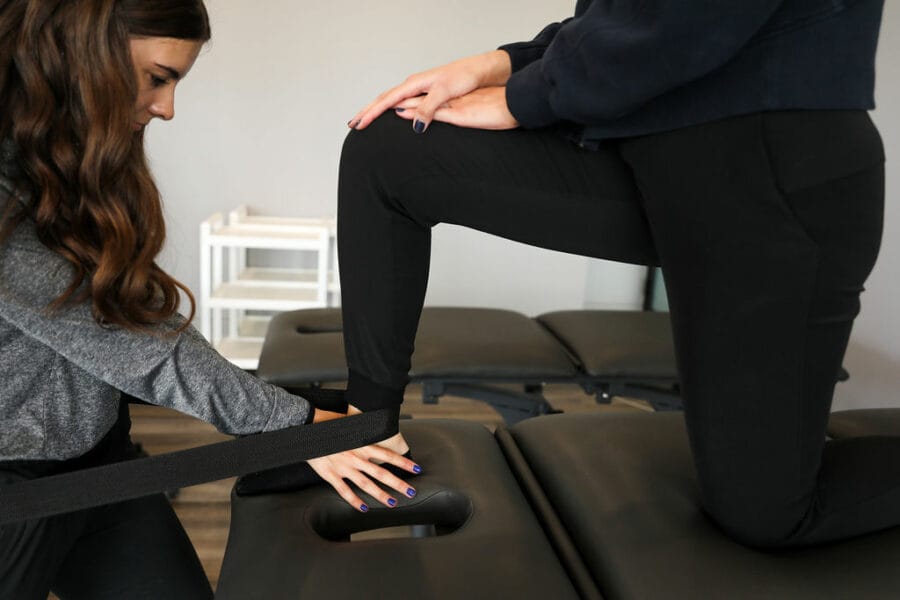 Orthopaedic Physiotherapy is the assessment and treatment of all musculoskeletal conditions (including back and neck pain, fractures, and sprains) caused by repetitive "wear and tear,"  sports injuries, falls, car accidents, or surgeries. The problem can be acute or chronic. Manual therapy, education, active exercise therapy, soft tissue release, and joint mobilizations are the focus of treatments at Triangle Physiotherapy in Erin Mills, to allow you to regain strength, flexibility, balance, and full movement and function. 
Our physio clinic Erin Mills, Mississauga has qualified and expert physiotherapists to help you with any musculoskeletal, vestibular, or pelvic health issues.
How is physiotherapy beneficial and what conditions can it treat?
Physiotherapists apply their extensive scientific knowledge of anatomy and physiology to:
Assess, diagnose, and treat injuries & conditions that affect people of all ages and social groups
Assist a patient to prevent injury in the workplace or on the sports field
Promote healthier lifestyles for all
By choosing Triangle Physiotherapy in Mississauga you can rest assured that your physiotherapist is a registered professional with the highest qualifications. This means that they have undergone rigorous scientific training and that they continue to stay up to date with current practices.
Physiotherapy can help a wide variety of conditions including the following:
Sports injuries
Posture & movement correction
Low back pain
Neck pain & Whiplash
Headaches
Shoulder pain
Ankle sprains
Knee pain
Shin splints
Groin & hip injuries
Muscular corks/contusions/tears
Osteoarthritic/degenerative joint pain and more.
What are the different types of physiotherapy?
There are different types of specializations in physiotherapy, some of which are listed below:
Orthopedic Physiotherapy
Pelvic Floor Physiotherapy
Vestibular Physiotherapy
Cancer Rehab Physiotherapy
Neurological Physiotherapy
Sports Physiotherapy
Pediatric Physiotherapy
Who would benefit from pelvic floor physiotherapy?
Pelvic Floor Physiotherapists are specifically trained in diagnosing and treating conditions associated with the pelvic floor muscles. This usually refers to muscles involved in reproductive and digestive processes in the body. While these muscles are in close proximity to muscles commonly involved in lower back problems, and sometimes even overlap, physiotherapy treatment for the lower back involves significantly different techniques.
Men, women, and children with pelvic floor dysfunction can benefit from pelvic floor physiotherapy.
What can I expect from my pelvic floor physiotherapy appointment?
When attending an appointment at our Mississauga Pelvic Health clinic for the first time, you will be asked to fill in a new patient information form prior to your initial visit. We highly recommend filling out your forms at home through our user-friendly patient portal, the link for which will be sent to you as soon as you book your session.
We will endeavor to make your first visit to our clinic a comfortable experience.
At your initial consultation, your physiotherapist will:
Conduct a thorough examination including history taking and a physical assessment, which may include an internal examination of your pelvic area;
Give you a working diagnosis of your condition;
Education
Treatment Plan
The initial visit will be an hour long and follow-up visits can range from 30 minutes to an hour depending on the amount of time your physiotherapist needs with you.
Who performs acupuncture at your physiotherapy clinic in Mississauga, Erin Mills location?
At Triangle Physiotherapy Erin Mills, acupuncture treatment is carried out by our physiotherapists, who have undergone specialized training. They use acupuncture or dry needling as part of their physiotherapy treatment to reduce pain and stimulate the healing process.
In addition to our physiotherapists, our acupuncturist also has specialized training in needling and can help with conditions such as:
Pain
Stress & anxiety
Sleep & insomnia
Allergies
Respiratory issues
Women's health
Dizziness & Vertigo
Asthma
Weakness & Fatigue
What conditions can vestibular physiotherapy be beneficial for?
Vestibular rehabilitation is a specialized form of therapy primarily aimed at reducing symptoms of vertigo, dizziness, visual disturbance, and/or imbalance. Research suggests that it is beneficial, safe & effective. 
Vestibular rehabilitation can benefit patients of any age and can be effective for long-standing symptoms, although it is advisable to start as soon as possible.
Treatment plans for vestibular conditions depend on the presenting symptoms, medical history, diagnostic test results, and physical examination. Treatment will be goal focused and progressive and you will be provided with exercises to complete independently on a regular basis.
How do I find a pelvic health physiotherapist near me?
We have 8 locations with pelvic health physiotherapists to help you. Book an Appointment today!